Rocks and Islands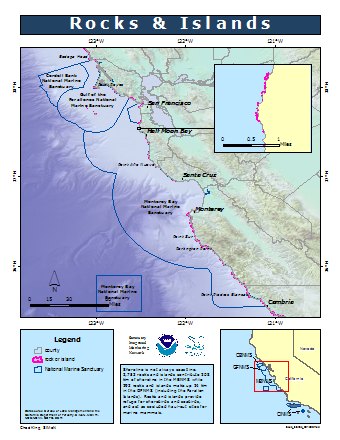 Figure 1. Zones of rocky islands within the Monterey Bay, Gulf of the Farallones, and Cordell Bank National Marine Sanctuaries. [
View Larger
]
Some of the United States' most famous coastlines are found along the West Coast; and the numerous rocks and small islands (islets) just offshore are a big part of what makes these areas so appealing. These features are plentiful along both the Gulf of the Farallones and Monterey Bay sanctuaries.
Offshore rocks and islands provide critical habitats for marine species. The
Farallon Islands
, the most prominent feature of the Gulf of the Farallones sanctuary, provide important breeding and resting sites for many of the marine birds and mammals that migrate through the sanctuary.
These areas provide some safety from natural enemies, as the water around the islands is a barrier to predators and other pests. Birds and pinnipeds use islands for breeding, resting, molting and other activities; there, they remain safer from many of the threats they would face on a mainland shore, such as terrestrial predators and human disturbance.
In some areas of these two sanctuaries, such as the Big Sur coast, the offshore rocks and islets also represent a significant percentage of the intertidal surface area. And unlike the adjacent coasts, they include a gradient of habitats - from those that are exposed to wind and waves through protected habitats.
Above the mean high-tide line, most of these offshore rocks and islets in California are managed as a cohesive unit by the federal government as a relatively new national monument, the California Coastal National Monument.
Conservation and Management Issues
The congregation of animals in these areas has historically made them easy targets for human hunting and egg-gathering. Although these pursuits are now prohibited, marine birds and mammals are still at risk from human activities, and the effect of these activities is magnified because so many animals are gathered in one place.
---
A view of Point Lobos State Marine Reserve looking north across Carmel Bay.
---
Pinnacle just outside of the Big Creek entrance.
Potentially harmful activities and phenomena include:
Vessel traffic and lights
Low-flying aircraft
Oil spills
Overfishing
Invasive species
Global climate change (which affects habitats and food abundance)
Cultural and Anthropologic Issues
Current theories estimate that humans have occupied the California coastal areas for at least the past 10,000 years. For example:
Native Californians used the intertidal areas, including offshore rocks and islets, to collect food and other items used in ceremonies and in barter.
Post-Columbus settlers used them for anchorages, hunting, foraging and navigational aids
People today use coastal rocks and islands primarily for recreational collecting and fishing (as permitted by California Fish and Game regulations).
Monitoring
The Monterey Bay National Marine Sanctuary is working with other agencies to develop a
site characterization
of the California Coastal National Monument.
The majority of monitoring studies at the
Farallon Islands
are coordinated efforts between PRBO Conservation Science and the U.S. Fish and Wildlife Service. Current projects focus on seal and sea lion abundance and reproduction; reproduction, feeding ecology and population dynamics in seabird species that breed on the islands; and more.
The
Seabird Protection Network
is a new program that aims to improve the survival and recruitment of central California coast seabird colonies harmed by the 1998 Command oil spill. Its goal is to reduce human disturbances at seabird breeding and roosting sites from Point Reyes to Point Sur.