Aplysia vaccaria - Black seahare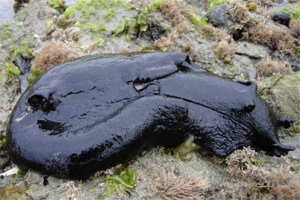 Geographic range:
Central California to central Baja
Key features:
Solid black with fused parapodia just behind the exhalant siphon. The black seahare "...body is firmly muscular as compared with
A. californica
(Cooper)."
Similar species:
Aplysia californica
--
California seahare
Habitat(s):
bay (rocky shore), estuary, exposed rocky shore, kelp forest
Primary common name:
Black seahare
General grouping:
Nudibranchs or sea slugs
ITIS code:
Geographic Range
Range Description:
Monterey Bay down to Baja California, including to Bahia de los Angeles in the Gulf of California. In 1980, the northernmost sighting was Morro Bay. Behrens and Hermosillo (2005) increased the range to Monterey Bay. There are unconfirmed sightings in Monterey Bay as of 2014-15 that may be associated with warm water conditions.
Intertidal Height
Lowest intertidal height:
-2 meters OR -6 feet
Highest intertidal height:
0 meters OR 0 feet
Intertidal height notes:
Found in the low intertidal, especially in deep tide pools.
Subtidal Depth Range
Minimum depth:
0 meters OR 0 feet
Maximum depth:
16 meters OR 50 feet
Subtidal depth notes:
We could not find a depth limit, but likely shallower than 20 m.
Habitats
bay (rocky shore), estuary, exposed rocky shore, kelp forest
Habitat notes:
Associated with rocky areas, especially kelp forests. Can be found in adjacent sandy areas, but not preferred habitat.
Abundance
Relative abundance:
Common in southern California, rare (if at all) in central California.
Species Description
General description:
Uniform black body color (sometimes dark red), rarely with light lines or spots. The black seahare is a very large 'sea slug.' It has prominent rhinophores (tube-like projections at the anterior) that resemble rabbit ears, hence the common name seahare. Like many gastropods, it has a large foot, a rounded body akin to a tapered balloon, two dorsal flap-like projections (parapodia), and at the tip of the anterior below and in front of the rhinophores are two cephalic tentacles. The parapodia are joined immediately posterior to the exhalant siphon.
Distinctive features:
This is a huge 'slug' with what look like bunny ears in the front. It does not exude an ink when disturbed, whereas the California seahare does. The parapodia also tend to overlap rather than flap open.
Size:
Up to 99 cm long.
Can weigh up to 16 kg.
This is the world's largest gastropod.
Natural History
General natural history:
Seahares can be conspicuous members of the kelp forest community. They are important grazers, can attain large size, and then after spawning senesce. Black seahares are poorly understood and information on them is limited.
Like California seahares, black seahares are presumably simultaneous hermaphrodites, having both male and female sex organs at the same time. They cannot self fertilize, so must find a mate to reproduce.
This species was described by Lindsay Winkler of USC in 1955 based on individuals collected in southern California and held in aquaria. Winkler noted the parapodia were united immediately behind the siphon, and this was different from the California seahare, whose parapodia remain separated.
Predator(s):
Predation on adults is not known.
Prey:
Published literature reports the black sea hare feeds primarily on the stipitate brown kelp
Egregia
, which is mostly a low intertidal species. If this was truly a strict diet, it would severely limit its distribution. Clearly more work is needed on the diet of black seahares.
Feeding behavior
Herbivore
Behrens, D.W. and A. Hermosillo. 2005. Eastern Pacific nudibranchs: a guide to the Opisthobranchs from Alaska to central America. Sea Challengers. 137 p.
---
Carlton, J.T. 2007.
The Light and Smith Manual, 4th edition
Intertidal Invertebrates from Central California to Oregon
University of California Press. 1001 p.

---
Morris, R.H., D.P Abbott, and E.C. Haderlie. 1980. Intertidal Invertebrates of California. Stanford University Press, Stanford, California. 690 p.
---
Winkler, L.R. 1955. A new species of Aplysia on the southern California coast. Bulletin of the Southern California Academy of Sciences 53:5-7.
---